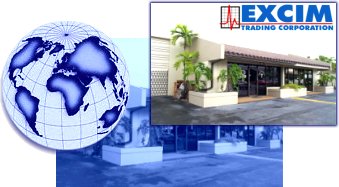 Excim Trading Corporation was established in the year 1985 by John Perez.
Our company has been catering to the international as well as the domestic cardiovascular market, and disposable medical equipment & supplies for the past decade. We have dedicated ourselves to representing medical supply manufacturers throughout the continents of North, South America & Europe.
Our objective has been, introducing innovative ideas to these markets by commercializing, expanding and increasing sales each year.
Excim Trading Corporation has opened new territories to product manufacturers, such as "Heart Technology" known for the "ROTABLATOR", in which we established several clinical trial centers for their FDA Approvals.
We are 100% to the concerns of the medical industry.
Number of employees: Nine from headquarters Miami, seventeen from the Caribbean, Central, South America & Europe.
Excim Trading Corporation
Holding Company for all the subsidiaries throughout the world.
Headquarters in Miami, Florida
With office in Buenos Aires, Argentina
Responsible for the representation of various medical product lines throughout Central America, South America and Europe.
Lithon Corporation
Headquarters in Miami, Florida
With office in Milan, Italy
Dedicated to endoscopic surgery, orthopedics, surgical intruments and supplies in Italy.